The future of Zwift looks promising and exciting. I think the team at Zwift will exceed all our visions of what the future will look like over the next few years. I have compiled a few thoughts as to what Zwift might introduce in the next few months/years:
1. New Worlds
There is probably nothing more exciting to a Zwifter than the release of a new world (maybe an increase in FTP). Zwift currently has five 'worlds': Watopia, London, Richmond, Innsbruck and NYC. The most recent course-release, NYC, is the Zwift team's version of the city 100 years from present day.
It is likely that Zwift will release a new world in the next few months – What could it be?
Maybe a replica of the Classics, featuring cobbled sectors and roads from the likes of Paris-Roubaix, Kuurne-Brussels-Kuurne, Strade Bianche and Amstel Gold.
2. Maybe a mix of some famous Grand-Tour climbs, such as Alpe d'Huez, Mont Ventoux, Stelvio Pass or the Col du Tourmalet!
3. Or maybe a mix of two different climates/terrain. One part of a world may consist of lots of forests, mountains and lakes, a bit like the Tour de Suisse or Tour of Austria, whilst the other part may be sandy, dry and flat with a scene similar to that of the Dubai Tour and the Tour of Oman.
2. Super smart trainers – Rolling road trainers/treadmills
The launch of the Tacx Magnum in 2016 has sparked interest and excitement amongst cyclists and runners, for a number of reasons. The impressive belt-design can simulate gradients of up to 15% (plenty if you ask me) and comes with ANT+ FE-C and Bluetooth Smart to connect to your devices to run applications like Zwift on its 32″ screen.
According to BikeRadar, if you push too far forward it will gently increase the resistance to put you back in the correct place on the rolling belt, and if you fall backwards it will decrease to allow you to accelerate — and if you stop suddenly or brake, the Magnum reacts in a split second to prevent you from falling.
The trainer/treadmill is currently limited to a top speed of 30km/h, and with a hefty price tag of around €7,000, you'll need a big wallet to own one of these. Nonetheless, these figures are bound to improve over the next few years, due to competitors, like Bitelli, who are also producing super smart trainers: 
Here is a video link to the Bitelli Bike Trainer (pictured above): https://youtu.be/ioWODwW0qME
3. Velodrome with an athletics track inside
This would be very impressive – a velodrome with an athletics track inside that can cater for both runners and cyclists in Zwift!
We don't all have the luxury of being close to a velodrome, yet alone being able to use the velodrome whenever we want. The same applies to an athletics track for runners. With the advent of Zwift running, Zwift could build a velodrome, whether it be indoor or outdoor, complete with an athletics track to maintain interest with current users whilst attracting new customers.
Organised track races could take place as frequently as current races do in-game, and would offer a different kind of racing. Imagine a scene where riders are storming around a velodrome, complete with a packed-out crowd and an electrifying atmosphere – Basically the Six Days of Ghent (with an athletics track inside)!
I am fortunate to live relatively close to an outdoor velodrome (Quibell Park in Scunthorpe), where I compete and race against men from all over the region. Quibell Park features an athletics track inside the velodrome, which allows athletes to race and train whilst riders cruise around on the banked tarmac:
A velodrome with an athletics track in Zwift would be so cool 🙂
4. Virtual Reality Headsets
We are always looking to upgrade our 'pain cave'. Whether it be a bigger TV screen to Zwift with or a brand new smart trainer, there is a never-ending list of desired training equipment.
The arrival of virtual reality (VR) headsets into the world of Zwift is an exciting and enticing prospect!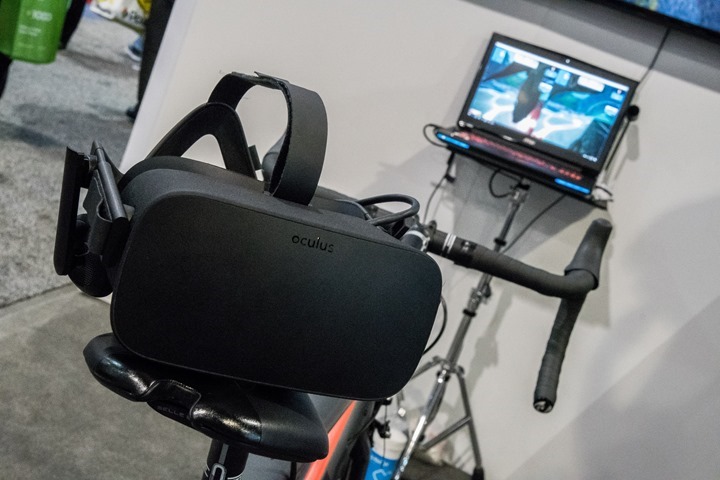 Headsets such as the Oculus Rift would bring the user one-step-closer to realism, as he/she is able to ride in a 360° virtual world; no different to real-life. Being able to swivel your head around and take in the landscape, road and riders surrounding you would be awesome to say the least.
If you wish to take a sneak peak as to what Zwift in virtual reality may look like, check out TitaniumGeek's experience with it at the Eurobike show: https://youtu.be/MKLXueRdBiY
Simon Richardson, from GCN, has also reviewed Zwift in virtual reality here: https://youtu.be/hNRJmKrPxp4?t=6m7s 
Modifications would probably need to be made to headsets to improve ventilation and cooling whilst exercising, although I would not be surprised to see VR-headsets purposefully built for virtual sports in a couple of years to come.
5. Body sensors
Attaching sensors to your body that reflect your position on the bike in-real-life (IRL), in-game, would be a step closer to reality within Zwift.
For example, if you are riding on the drops whilst on your trainer, you'll ride on the drops in-game. If you are riding on time trial bars IRL, your avatar in Zwift will also ride in the same position. I imagine the body sensors would generate a result similar to that used in bike fitting, like the image below:
Other benefits of body sensors:
Body sensors could measure body temperature and hydration, helping you to better fuel yourself before and during a ride or race.
The user could, in their own home, test out different positions and balance power with aerodynamics to achieve the optimal position on the bike.
I would imagine the body sensors as being an optional feature.
6. Autosave
The thought of Zwift freezing and/or crashing (although it is an unlikely scenario), is terrifying… your ride may cease to exist as if you never did that session, and you'll have to resort to a manual entry on Strava 😦
Your friends will probably say something along the lines of:
However, this could all be prevented! Auto-saving an activity every 10 seconds or so (for example) will help users a great deal when it comes to upload a ride on Zwift manually, because Zwift has completely frozen or other circumstances e.g. your computer has ran-out of battery. Your distance, elevation, average speed, power, heart rate, etc, should all be preserved per autosave.
Thanks for reading 🙂